Cheesy Bacon Tater Tots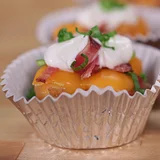 Cheesy Bacon Tater Tots
Ingredients
1 bag frozen tater tots, thawed
6 tablespoons ranch dressing
6 pieces American cheese, thinly sliced
6 pieces cooked bacon, chopped
1/4 cup green onions, chopped
Sour cream
Directions
Preheat your oven to 425°F. Line a muffin tin with cupcake wrappers. Arrange 4 tater tots in each tin. Bake tater tots for 15 minutes.
Drizzle 1/2 tablespoon of ranch dressing over each tater tot bundle and top with 1/2 a slice of cheese and about 1 tablespoon crumbled bacon, dividing the toppings evenly among the tater tot bundles. Bake in oven for 5 to 7 minutes or until the cheese is melted.
Garnish with green onions and a dollop of sour cream.
Yield
12 small portions
Source URL
http://www.popsugar.com/food/Cheesy-Bacon-Tater-Tots-From-POPSUGAR-Food-Ingredients1-bag-32185540