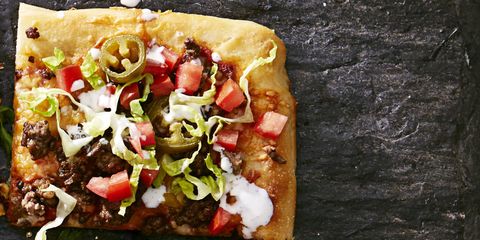 MIKE GARTEN
Tex-Mex isn't just for tacos anymore.
YIELDS:8
PREP TIME:0 hours 20 mins
TOTAL TIME:0 hours 50 mins
Ingredients
1 c. jarred salsa
1 recipe Easy Homemade Dough (link in step 1) or one 1 1/2-lb. ball pizzeria dough
1 c. extra sharp Cheddar cheese, shredded
1 tbsp. olive oil
1 medium onion, chopped
2 tsp. ground cumin
1 tsp. garlic powder
1 tsp. smoked paprika
1 lb. ground beef sirloin
1/2 c. pickled jalapeno slices (optional)
1/4 c. light sour cream
1 tbsp. lime juice
1 tbsp. milk
1 heart romaine lettuce, thinly sliced
2 small plum tomatoes, chopped
This ingredient shopping module is created and maintained by a third party, and imported onto this page. You may be able to find more information about this and similar content on their web site.
GET INGREDIENTS
Directions
Preheat oven to 475 degrees F. Spread salsa all over Easy Homemade Dough and top with Cheddar; bake 10 minutes.
Meanwhile, in 12-inch skillet, heat oil on medium. Add onion, cumin, garlic powder, and smoked paprika; cook 3 minutes, stirring. Add beef and 1/2 teaspoon salt. Cook 3 minutes or until browned, breaking up with back of spoon. Sprinkle beef over cheese. Top with jalapenos, if using. Bake 20 minutes or until bottom of crust is golden brown.
While pizza bakes, stir together sour cream, lime juice and milk. To serve, top pizza with lettuce and tomatoes. Drizzle with sour cream mixture.
About 505 cals, 21 g protein, 48 g carbs, 25 g fat (7 g sat), 3 g fiber, 855 mg sodium.
https://www.goodhousekeeping.com/food-recipes/party-ideas/a36232/tex-mex-taco-pizza/