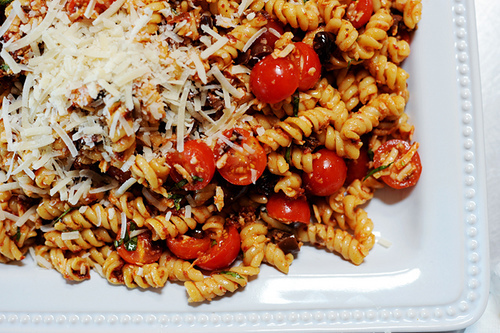 Sundried Tomato Pasta Salad
Prep: 30 Minutes Level: Easy
Cook: 30 Minutes Serves: 8
Ingredients
DRESSING INGREDIENTS
1 jar Sun-dried Tomatoes (7 Oz.)
4 cloves Garlic
3 Tablespoons Red Wine Vinegar
1 cup Extra Virgin Olive Oil
Salt And Pepper, to taste
---
SALAD:
16 ounces, weight Corkscrew Pasta
1 jar Kalamata Or Assorted Olives
1 pint Ripe Cherry Tomatoes (cut In Halves)
10 leaves Basil (10-15 Leaves), Chopped Or Julienne
1-1/2 cup Parmesan Cheese, Freshly Grated
Preparation
Source: Barefoot Contessa
Dressing:
In a blender combine sundried tomatoes, garlic, salt, pepper, and vinegar until tomatoes are chopped. Continue blending while drizzling in olive oil until mixed together.
Pasta:
Cook pasta according to package directions. Drain and rinse with cold water until no longer hot.
Pour 2/3 of the dressing over the pasta. Add olives and toss together. Add remaining ingredients, tossing together and adding more dressing until the salad is coated to your liking.
Serve on a big platter with an extra sprinkling of Parmesan cheese.