Steak With Creamy Garlic Shrimp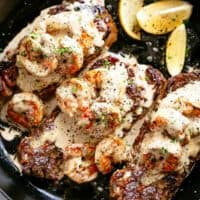 Steak And Creamy Garlic Shrimp is an incredible easy to make gourmet steak dinner! Pan Seared OR Grilled! Tastes just like something out of a restaurant, this low carb steak recipe is ready on the table in less than 15 minutes. The sauce is out of this world…you will even impress yourself!
Prep Time10 mins
Cook Time15 mins
Total Time25 mins
Course: Dinner
Cuisine: American
Keyword: Steak
Servings: 4 people
Calories: 560kcal
Author: Karina
Ingredients
Steaks:
4 New York Steak strip steaks (Porterhouse steaks)
Salt and pepper to season
1-2 tablespoons olive oil
Creamy Garlic Shrimp:
3 tablespoons unsalted butter, divided
8 ounces (250 g) shrimp deveined, tails on or off
4 cloves garlic (or 1 tablespoons minced garlic)
1/4 cup dry white wine or low-sodium chicken broth
3/4 cup heavy cream* (thickened cream)
1/4 cup fresh shredded parmesan cheese
Salt and pepper to taste
1 tablespoon fresh parsley chopped
Instructions
Pat steaks dry with paper towel. Season with salt and pepper.

Heat a large cast iron skillet or grill over medium-high heat. Sear/grill steaks for 4-5 minutes each side until browned and cooked to desired doneness.

Transfer steaks to a warm plate; set aside.

Melt 2 tablespoons butter in the skillet (if using a skillet). Add shrimp to the skillet, season with salt and pepper and sear until just cooked and pink – about 2 minutes. Transfer to a bowl; set aside.(For grill: grill seasoned shrimp while brushing with melted butter until done.)

To the same skillet, add the remaining butter, add the garlic, sauté until fragrant (about one minute). (If grilling meats, you will need to grab a pan or skillet for this step.)

Pour in the white wine (or broth), and allow to reduce to half, while scraping any bits off of the bottom of the pan.

Reduce heat to low-medium heat, add the cream and bring to a simmer, while stirring occasionally. Add in the parmesan cheese; allow to melt through the simmering sauce. Season with salt and pepper to your taste.

Add the shrimp back into the pan; sprinkle with the parsley, and stir through.

Serve with steaks.
Notes
For steaks, you can use Strip, Sirloin, Rib eye, T-bone, Eye fillet, Scotch fillet or Porterhouse steaks.*Heavy (thickened) cream can be substituted with half and half, light cream or evaporated milk.
Nutrition
Calories: 560kcal | Carbohydrates: 2g | Protein: 55g | Fat: 38g | Saturated Fat: 16g | Cholesterol: 290mg | Sodium: 257mg | Potassium: 403mg | Vitamin A: 450IU | Vitamin C: 4.6mg | Calcium: 189mg | Iron: 5.4mg
https://cafedelites.com/steak-creamy-garlic-shrimp/#wprm-recipe-container-54234