Spinach-Artichoke Dip Wonton Cups
Skip the separate chips and dip and whip up this handheld recipe for hot and fresh Spinach-Artichoke Dip Wonton Cups.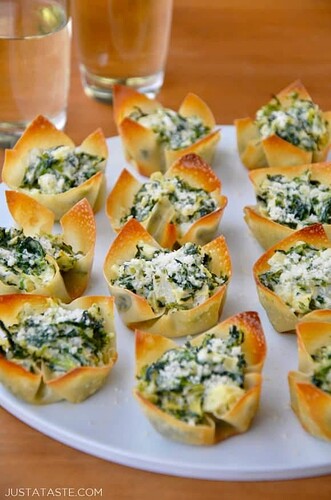 PREP TIME10 mins
COOK TIME20 mins
TOTAL TIME30 mins
SERVINGS12 servings
Ingredients
1x2x3x
12 wonton wrappers
Cooking spray
1/2 of a 10-oz. package frozen spinach, thawed and very well-strained
1 (8-oz.) can artichoke hearts, drained and finely chopped
1/3 cup mayonnaise
1/4 cup sour cream
2 oz. cream cheese, at room temperature
1/2 cup grated Parmesan cheese
2 cloves garlic, minced
Instructions
Preheat the oven to 350°F.

Arrange the wonton wrappers in a standard 12-cup muffin pan then spray them lightly with cooking spray. Bake the wonton cups for 5 minutes then remove them from the oven and set them aside.

In a medium bowl, stir together the chopped artichoke hearts, spinach, mayonnaise, sour cream, cream cheese, Parmesan cheese and minced garlic.

Divide the spinach mixture evenly among the wonton cups then return them to the oven for 10 to 12 minutes until the spinach mixture is warm and the wonton cups are golden brown.