Spinach Artichoke Chicken Casserole (Keto)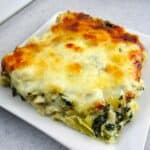 Prep Time5 mins
Cook Time25 mins
Total Time30 mins
Course: Main Course
Servings: 8
Calories: 493kcal
Author: Julianne
Ingredients
4 cups cooked chicken shredded/chopped
9 ounce package frozen spinach thawed and well drained
14 ounces artichoke hearts (plain) chopped
8 ounces cream cheese at room temperature
1 cup parmesan cheese grated
1 1/2 cups shredded mozzarella cheese
2/3 cup sour cream
1/2 cup heavy cream
1/4 cup mayonnaise see my recipe
3 cloves garlic minced
salt and pepper to taste
Instructions
Preheat oven to 375F. Add the cream cheese, sour cream, heavy cream, mayonnaise, garlic, salt and pepper to a large mixing bowl. Mix until combined, then add in the rest of the ingredients, except for the mozzarella cheese.

Mix well, then pour into a 9" x 13" baking dish that has been sprayed with nonstick spray. Top with the shredded mozzarella cheese and bake for 20 minutes. Increase the temperature to 400F and bake for another 5 minutes or until the cheese is slightly golden and bubbly.

Allow to cool slightly before serving. Store leftovers in the fridge in an airtight container for a few days or freeze.
Notes
The artichoke hearts that I used were in a jar, plain, not marinated. You can use either canned or frozen (thawed), whichever is easier for you, just be sure to rinse them first.
Nutrition
Calories: 493kcal | Carbohydrates: 7g | Protein: 37g | Fat: 35g | Saturated Fat: 19g | Fiber: 2g | Sugar: 2g