Southwestern Pot Roast:
Recipe and photos by For the Love of Cooking.net
2-3 lb lean chuck roast
1 tsp olive oil
Chili powder, to taste
Paprika, to taste
Cumin, to taste
Oregano, to taste
Coriander, to taste
Garlic powder, to taste
Onion powder, to taste
Sea salt and freshly cracked pepper, to taste
2 4 oz cans of diced green chiles
1 15 oz can of diced tomatoes
1 1/2 cup beef broth
4-5 cloves of garlic
1 handful of cilantro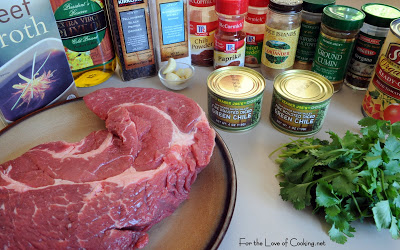 Preheat oven to 300 degrees.
Heat olive oil in a Dutch oven over medium high heat. Sprinkle all of the seasonings over both sides of the meat, to taste. Place in hot skillet and sear all sides of the beef. Add the green chiles, diced tomatoes, beef broth, garlic cloves, and cilantro to the Dutch oven. Cover with a lid and place in the oven. Cook in the oven for 3-4 hours or until the meat is tender and falling apart.
Note: Make sure to check the meat periodically to make sure there is enough liquid in the Dutch oven. Add more beef broth if needed.
Remove the meat from the Dutch oven and place on a cutting board to rest. Strain the liquid into a bowl then place back in the pan to cook over medium heat for a few minutes to reduce. Pour the liquid onto the sliced beef and serve immediately. Enjoy.