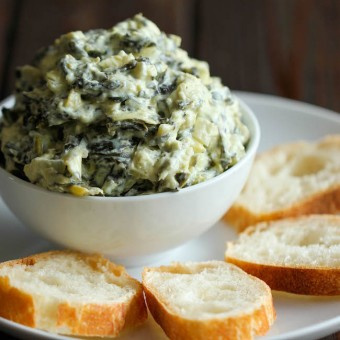 SLOW COOKER SPINACH AND ARTICHOKE DIP
YIELD: 8 SERVINGS
PREP TIME: 10 MINUTES
COOK TIME: 2 HOURS, 15 MINUTES
TOTAL TIME: 2 HOURS, 25 MINUTES
Simply throw everything in the crockpot for the easiest, most effortless spinach and artichoke dip!
INGREDIENTS:
2 (14-ounce) cans artichoke hearts, drained and chopped
1 (10-ounce) package frozen spinach, thawed and squeezed dry
8 ounces sour cream
1 small onion, diced
2 cloves garlic, crushed
3/4 cup grated Parmesan cheese
3/4 cup milk
1/2 cup crumbled feta cheese
1/3 cup mayonnaise
1 tablespoon red wine vinegar
1/4 teaspoon freshly ground black pepper
8 ounces cream cheese, cubed
DIRECTIONS:
Place artichoke hearts, spinach, sour cream, onion, garlic, Parmesan, milk, feta, mayonnaise, vinegar and pepper into a slow cooker. Stir until well combined. Top with cream cheese.
Cover and cook on low heat for 2 hours.
Uncover and stir until cream cheese is well combined. Cover and cook on high heat for an additional 15 minutes.
Adapted from Some the Wiser.
Nutrition Facts
Serving Size
Servings Per Container 8
Amount Per Serving
Calories 355.9Calories from Fat 235.8
% Daily Value*
Total Fat 26.2g40%
Saturated Fat 12.3g62%
Trans Fat 0g
Cholesterol 61.3mg20%
Sodium 738.9mg31%
Total Carbohydrate 19.4g6%
Dietary Fiber 5.1g20%
Sugars 4.6g
Protein 14.4g29%