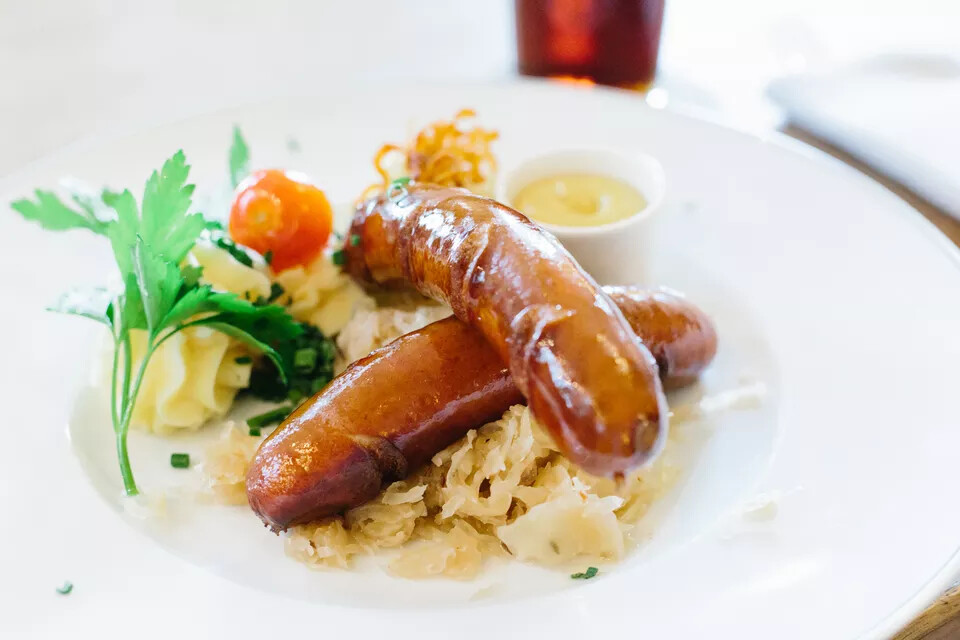 Ingredients
1 pound sauerkraut
1 pound kielbasa (or another similar smoked sausage)
3 to 4 apples (tart, thickly sliced)
1/2 cup brown sugar (packed)
3/4 teaspoon salt (kosher)
1/8 teaspoon pepper
Optional: 1/2 teaspoon caraway seeds
3/4 cup apple juice
Steps to Make It
Gather the ingredients.
Rinse the sauerkraut and squeeze it dry to remove the brine. Place half of the sauerkraut in the slow cooker.
Cut the sausage into 2-inch lengths. Place the sausage pieces in the slow cooker.
Continue to layer the ingredients in the slow cooker in this order: the sliced apples, brown sugar, salt, pepper, and caraway seeds.
Top with the remaining sauerkraut. Pour the apple juice over all.
Cover and cook on LOW for 6 to 8 hours or until apples are tender. It will be fine cooking for a longer time but is likely to be ready sooner. Stir before serving.
Tips
This dish provides protein and vegetables for your meal, so you might add some crusty rolls to go with it as a starch.
Refrigerate any leftovers in a sealed container so the aroma of the sauerkraut doesn't transfer to the other items in your refrigerator. You can reheat the leftovers in the microwave for meals the next day.
Variation
This slow cooker recipe is convenient for a make-ahead meal. But you can also make the same meal quickly minutes in a skillet on your stovetop. Simmer the apples and sauerkraut together for 10 minutes, then add the sausage, sugar, salt, and pepper. Heat through for about 5 minutes. It may not have the same depth of flavor as the slow cooker meal, but it can be a quick and easy method.
https://www.thespruceeats.com/crock-pot-kielbasa-with-sauerkraut-and-apples-3055748