SLOW COOKER CREAMED CORN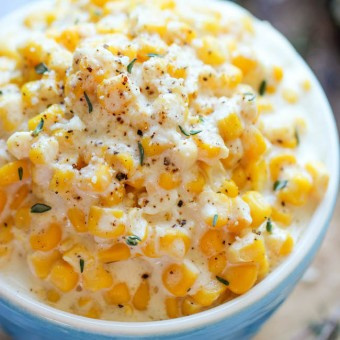 YIELD: 6
SERVINGS PREP TIME: 10 MINUTES
COOK TIME: 3 HOURS, 15 MINUTES
TOTAL TIME: 3 HOURS, 25 MINUTES
So rich and creamy, and unbelievably easy to make with just 5 ingredients. Doesn't get easier than that!
INGREDIENTS:
3 (15.25-ounces) cans whole kernel corn, drained
1 cup milk
1 tablespoon sugar
1/4 teaspoon pepper
8 ounces cream cheese, cubed
1/2 cup (1 stick) unsalted butter, cut into thin slices
DIRECTIONS:
Place corn into a slow cooker. Stir in milk, sugar and pepper until well combined. Without stirring, top with butter and cream cheese. Cover and cook on high heat for 2-3 hours.
Uncover and stir until butter and cream cheese are well combined. Cover and cook on high heat for an additional 15 minutes.
Serve immediately.