Skillet Shepherd's Pie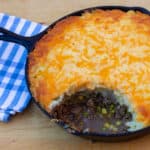 How to make shepherd's pie in a cast iron skillet! Baked recipe has beef filling with peas and corn, topped with mashed potatoes and grated cheddar cheese.
Prep Time: 10 minutes
Cook Time: 35 minutes
Total Time: 45 minutes
Servings: 4 people
Ingredients
1 1/2 pounds lean ground beef
1 onion minced
2 garlic cloves minced
1 1/2 tbsp Worcestershire sauce
1 tbsp flour
salt and pepper to taste
1 1/2 cups frozen peas thawed
1 1/2 cups frozen corn thawed
4 cups mashed potatoes
1 cup grated cheese (cheddar, monterey jack,etc.)
Instructions
Preheat oven for 400F.

Brown the ground beef, onion and garlic, on high heat, in a cast iron skillet. Stir often, ensuring that the beef does not stick to the bottom of the skillet. Once fully cooked, remove from the hot element and drain the grease drippings. Stir in the Worcestershire sauce, flour, salt, pepper, peas and corn.

Spread the mashed potatoes on top of the beef mixture.

Sprinkle the grated cheese on top.

Bake in the oven until the cheese is melted and the beef filling is starting to bubble around the sides of the skillet. It should take 15-25 minutes.

Let the pie rest about 5 minutes before serving.