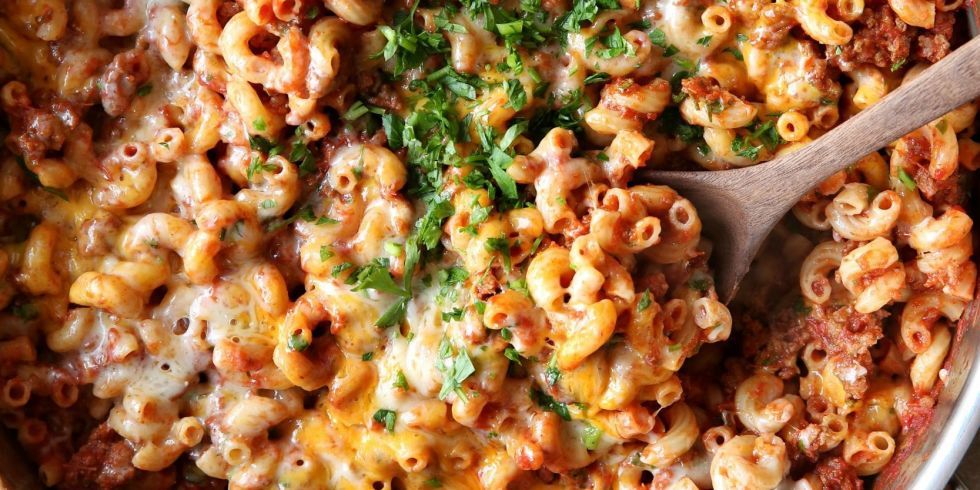 TOTAL TIME: 0:20 PREP: 0:05 LEVEL: EASY YIELD: 4 SERVINGS
INGREDIENTS
kosher salt
1 lb. elbow macaroni
1 lb. ground beef
Freshly ground black pepper
1 Garlic clove, minced
1 c. crushed tomatoes
1 c. whole milk
2 c. shredded Cheddar
2 tbsp. chopped parsley
DIRECTIONS
Bring an 8-quart stock pot of water to a boil and generously season with salt.
Cook pasta according to al dente package directions.
Drain pasta.
Meanwhile in a large sauté pan over medium-high heat brown ground beef; break up meat using a wooden spoon.
Season with 1 teaspoon salt, 1/2 teaspoon black pepper, and garlic and cook 1 minute. Drain excess fat using a spoon. Add tomatoes and milk; bring to a boil and simmer for 5 minutes.
Reduce heat to low, fold in pasta and add 1 cup cheddar, one handful at a time.
Stir until combined before adding more cheese.
Sprinkle remaining cheese over the top and cover with lid. Simmer until cheese is melted and bubbling, about 1 minute.
Garnish with parsley and serve immediately