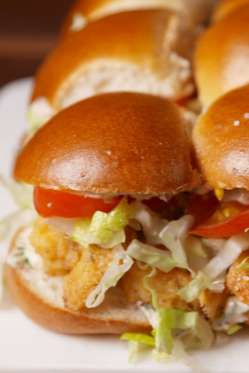 Little sandwiches, big flavor.
TOTAL TIME: 0:30
PREP: 0:10
LEVEL: EASY
YIELD: 12 SLIDERS
INGREDIENTS
1/2 c. whole milk
2 eggs
1/2 c. all-purpose flour
1/2 c. finely ground cornmeal
1 tbsp. Cajun seasoning
1 tsp. dried thyme
kosher salt
Freshly ground black pepper
Vegetable oil, for frying
1 lb. shrimp, peeled and deveined, tails removed
12 Slider buns
Shredded iceberg lettuce, for serving
Sliced cherry tomatoes, for serving
FOR REMOULADE:
1 c. mayonnaise
1 tbsp. whole grain mustard
1 tbsp. lemon juice
1 tbsp. Louisiana hot sauce
1 tbsp. parsley, chopped
2 green onions, thinly sliced
DIRECTIONS
In a large bowl, whisk together milk and eggs. In a separate large bowl, whisk together flour, cornmeal, Cajun seasoning and dried thyme. Season with salt and pepper. Dredge shrimp in milk mixture then toss in flour mixture until coated.
In a large skillet over medium heat, heat about 2" of oil until the oil is shimmering. Fry shrimp until golden, about 2 minutes per side. Drain on a paper towel-lined plate.
Make remoulade: Whisk together mayonnaise, mustard, lemon juice, hot sauce, parsley, and green onions.
Build sandwiches: Spread remoulade on the bottom slider buns and top with fried shrimp, lettuce, and tomatoes. Top with slider bun tops.