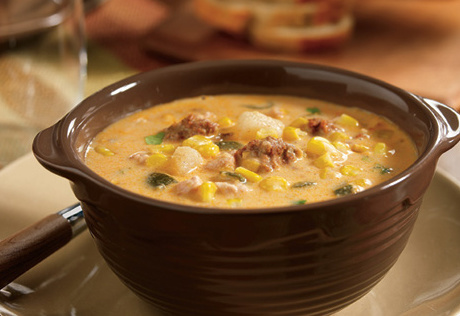 TOTAL TIME:
Prep: 10 min.
Cook: 30 min.
Ingredients
1 pound bulk pork sausage
1 cup coarsely chopped onion
4 cups cubed peeled potatoes (1/2-inch cubes)
2 cups water
1 teaspoon salt
1/2 teaspoon dried marjoram
1/8 teaspoon pepper
1 can (15-1/4 ounces) whole kernel corn, drained
1 can (14-3/4 ounces) cream-style corn
1 can (12 ounces) evaporated milk
Directions
In a Dutch oven or soup kettle, cook sausage and onion over medium heat until meat is no longer pink; drain. Add the potatoes, water, salt, marjoram and pepper.
Bring to a boil. Reduce heat; cover and simmer for 15 minutes or until potatoes are just tender. Add the corn, cream-style corn and milk; heat through.
Yield: 10 servings.