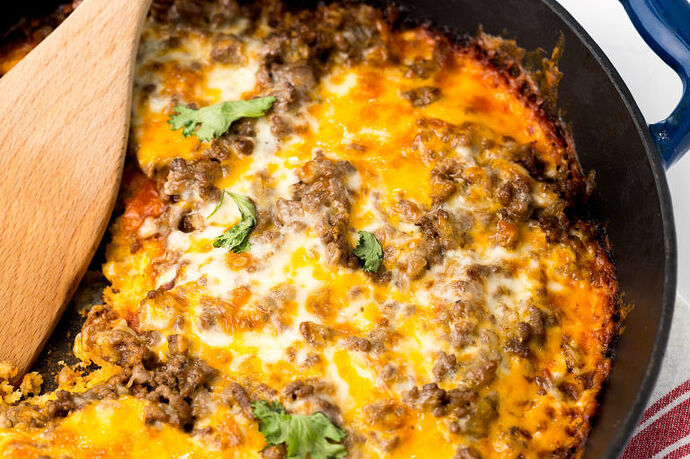 We're not sure how tamale pie came to be, but we're so glad it exists. Sure, the cornbread-ground beef combo is nothing like the husk-wrapped masa dish it's named after. Even calling it a "pie" is somewhat controversial. But what it lacks in authenticity, it makes up for in flavor. So. Much. Flavor.
By simply sautéing spiced ground beef I created a tasty beef alternative ready in only 10 minutes. Feel free to use any meat you have around…if it goes with taco spices it will go with this recipe. I baked this in a large cast iron skillet, but the recipe also cooks up well in a 9×9 or 9×13 pan. The size of the pan will change the thickness, but not the deliciousness of each layer.
I love my tamale pie topped with all the taco fixings…Salsa, sour cream, guacamole, shredded cheese, cilantro, and lime juice. It's super adjustable, so have fun with it and enjoy!
Layers of cornbread, enchilada sauce, spiced ground beef and cheese, baked until melty and topped with all your favorite taco fixings!
Serves: 8-12
INGREDIENTS
CORNBREAD
Click here to use Jiffy corn bread mix instead
½ cup cornmeal
⅔ cup flour
3 tablespoons sugar
1 tablespoon baking powder
¼ teaspoon salt
3-4 tablespoons oil (I used olive oil)
⅓ cup milk
1 egg
1 small can diced green chiles (4.5 ounce can)
1 can of corn or creamed corn
MEAT
1 lb ground beef
1 teaspoon cumin
1 teaspoon chili powder
¼ teaspoon salt
¼ teaspoon pepper
TAMALE PIE
1 ¼ cup enchilada sauce
2 cups of shredded cheese (I used sharp white cheddar)
OPTIONAL TOPPINGS
Salsa
Guacomole
Sour Cream
Shredded Cheese
Cilantro
Lime wedges
INSTRUCTIONS
Preheat oven to 400° F.
Whisk together cornmeal, flour, sugar, baking powder, and salt. Add oil until soft crumbles form. Whisk in milk and egg. Gently fold in chiles and corn. Pour into greased baking pan (9x9, 9x13, large cast iron skillet). Bake until set (a toothpick should come out clean), about 20-25 minutes.
While cornbread is baking, combine beef with spices and sauté in a skillet over medium heat until fully cooked, about 10 minutes. Drain and set aside.
Once cornbread is done baking, reduce oven to 350 degree F. Poke holes in cornbread with a fork and pour enchilada sauce over it. Top with ground beef and shredded cheese, and cover with aluminum foil. Bake in oven for 20 minutes. Remove foil and back until cheese begins to brown, about 5-10 minutes.
Let cool for 10-15 minutes before serving with desired toppings.