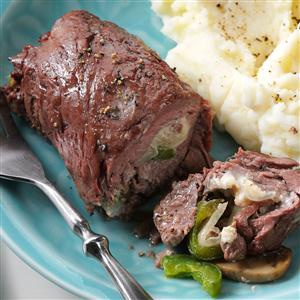 INGREDIENTS
1/2 pound sliced fresh mushrooms
1 medium onion, halved and sliced
1 small green pepper, cut into thin strips
1 beef top round steak (1 pound)
4 wedges The Laughing Cow light Swiss cheese
1/4 teaspoon pepper
3 cups hot mashed potatoes (made with fat-free milk)
DIRECTIONS
Preheat oven to 450°. Place a large nonstick skillet coated with cooking spray over medium-high heat. Add mushrooms, onion and green pepper; cook and stir 8-10 minutes or until tender. Remove from pan; cool slightly.
Cut steak into four pieces; pound with a meat mallet to 1/4-in. thickness. Spread with cheese. Sprinkle with pepper; top with onion mixture. Roll up from a short side; secure with toothpicks.
Transfer rolls to a foil-lined 15x10x1-in. baking pan. Bake 15-20 minutes or until meat reaches desired doneness (for medium-rare, a thermometer should read 145°; medium, 160°). Let stand 5 minutes before serving. Serve with mashed potatoes. Yield: 4 servings.
https://www.tasteofhome.com/recipes/philly-cheesesteak-rolls