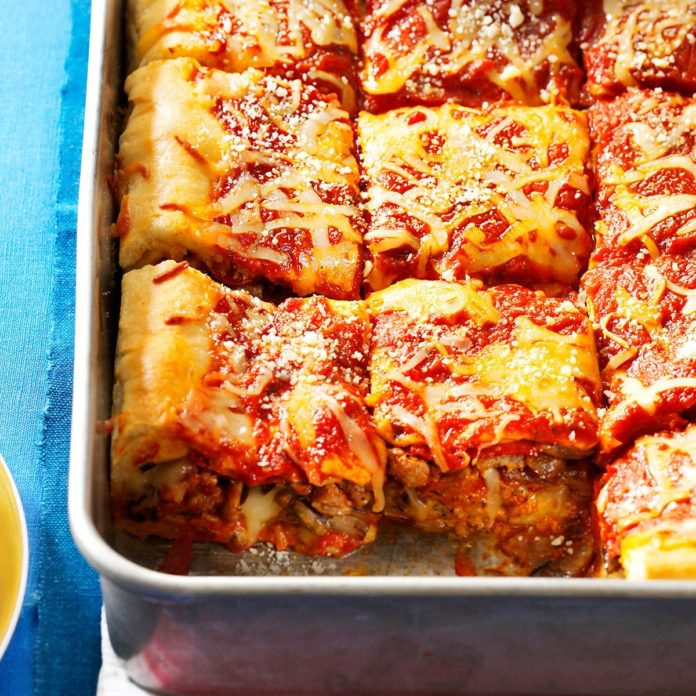 Ingredients
1 package (1/4 ounce) active dry yeast
1-1/4 cups warm water (110° to 115°)
2 tablespoons olive oil
1-1/2 teaspoons salt
1 teaspoon sugar
3-1/2 to 4 cups all-purpose flour
FILLING:
2-1/2 cups shredded part-skim mozzarella cheese, divided
2-1/2 cups shredded white cheddar cheese, divided
2 tablespoons all-purpose flour
2 teaspoons dried oregano
2 teaspoons dried basil
1/2 teaspoon crushed red pepper flakes
1 pound Johnsonville® Ground Mild Italian sausage, cooked and crumbled
1/2 pound sliced fresh mushrooms
1 package (3-1/2 ounces) sliced pepperoni
1 can (15 ounces) pizza sauce
Grated Parmesan cheese, optional
Directions
In a small bowl, dissolve yeast in warm water. In a large bowl, combine oil, salt, sugar, yeast mixture and 1 cup flour; beat on medium speed until smooth. Stir in enough remaining flour to form a stiff dough.
Turn dough onto a floured surface; knead until smooth and elastic, about 6-8 minutes. Place in a greased bowl, turning once to grease the top. Cover with plastic wrap and let rise in a warm place until doubled, about 1 hour.
Preheat oven to 425°. Grease a 13x9-in. baking pan. Punch down dough; divide into three portions. On a lightly floured surface, combine two portions of dough and roll into a 15x11-in. rectangle. Transfer to prepared pan, pressing onto bottom and up sides of pan. Top with 2 cups mozzarella cheese and 2 cups cheddar cheese. Sprinkle with flour, seasonings, cooked sausage, mushrooms and pepperoni.
Roll out remaining dough into a 13x9-in. rectangle. Place dough over filling, crimping edges to seal; prick top with a fork. Sprinkle with remaining cheeses. Bake on a lower oven rack 10 minutes.
Reduce oven setting to 375&deg. Spread pizza sauce over cheese. Bake 30-35 minutes longer or until edges are lightly browned. Let stand 10 minutes before cutting. If desired, sprinkle with Parmesan cheese.
Nutrition Facts
1 piece: 481 calories, 27g fat (13g saturated fat), 72mg cholesterol, 1115mg sodium, 36g carbohydrate (4g sugars, 2g fiber), 24g protein.