MINI CALZONES RECIPE | THE PERFECT PARTY FOOD
Prep time: 15 mins
Cook time: 15 mins
Total time: 30 mins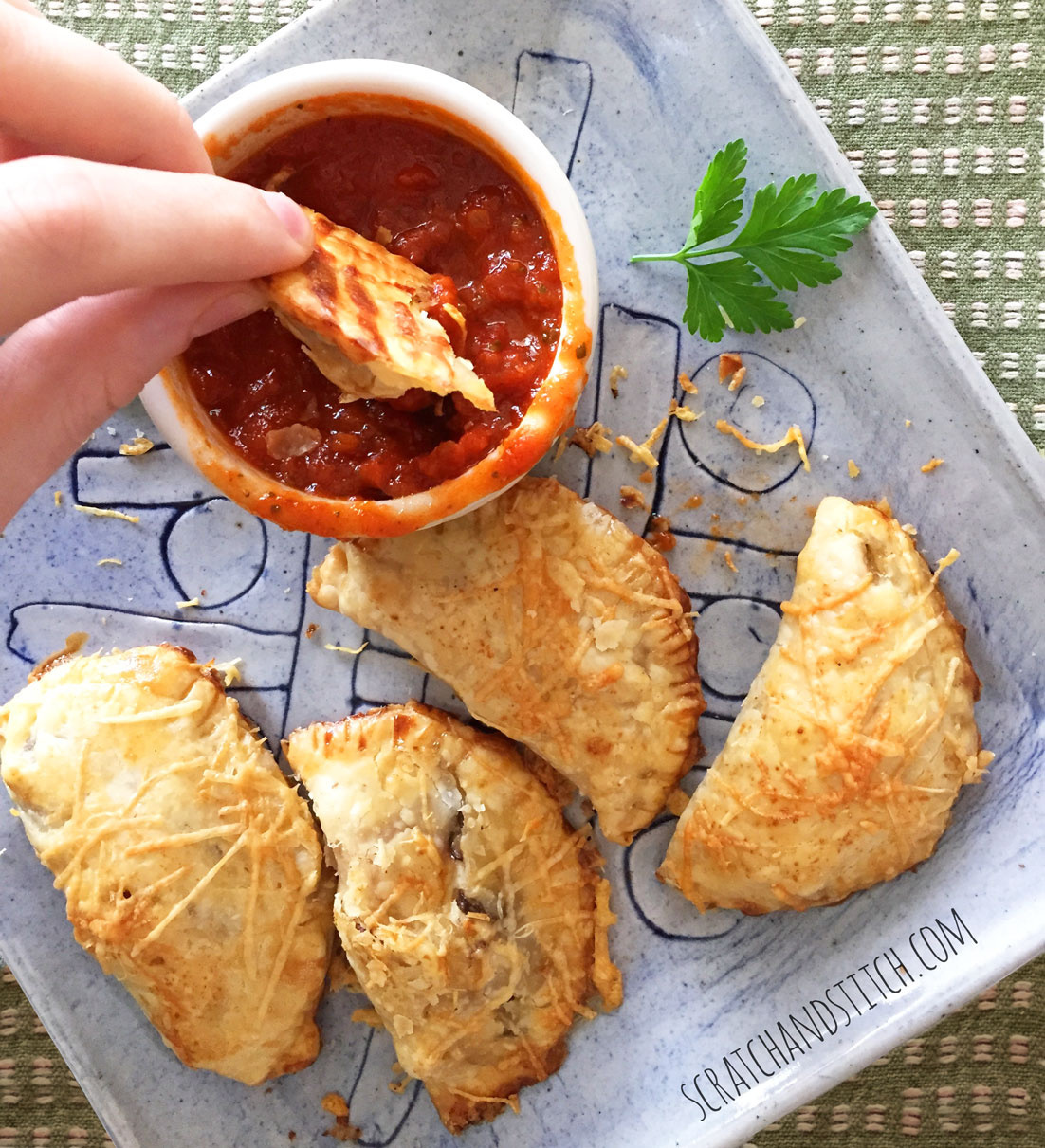 This easy finger-food recipe can be customized with different fillings for the perfect mini calzone. Serve with marinara for dipping. They'll be gone before you know it.
Author: Cathi at scratchandstitch.com
Recipe type: Appetizer
Serves: 40 pieces
Ingredients
1 box Pillsbury Pie Crusts
40 slices pepperoni (try turkey pepperoni)
4 oz fresh mozzarella, shredded
1 cup mushrooms, diced
1 egg
2 Tablespoon water
garlic powder
Parmesan cheese, shredded
marinara sauce, for dipping
Instructions
Preheat oven to 425°F. Line a large baking sheet with parchment paper.
Unroll one sheet of pie crust. Using a 3 inch cookie cutter (or ramekin) cut 10 circles. Roll out excess pie crust into remaining rounds.
In the middle of each round, place 2 pepperoni slices, a few mushrooms, and some mozzarella. Don't over fill, just a little of each thing is enough. Fold over the dough to create the calzone. With your finger, pinch the edges together. Using a fork, crimp the edges.
Repeat with remaining dough and filling ingredients.
Transfer mini calzones to prepared baking sheet.
In a small bowl, mix egg and water. Use a pastry brush to brush egg wash onto calzones.
Lightly dust calzones with garlic powder.
Bake for approximately 10 minutes until lightly browned.
Sprinkle on parmesan cheese and bake another 5 minutes.