These fries are so good that your other food items will want to eat them, too!
Lola Fries with Rosemary
Recipe courtesy of Michael Symon, 2012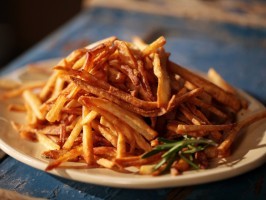 Total Time:
1 hr 40 min
Prep: 20 min |Inactive Prep: 1 hr |Cook: 20 min
Level:Easy
Yield:6 to 8 servings
INGREDIENTS
2 pounds russet potatoes
Canola oil or lard, for frying
1 teaspoon finely chopped fresh rosemary
1 teaspoon coarse sea salt
DIRECTIONS
Peel the potatoes and cut them into long fries about 1/4-inch thick. As you cut them, put them in a bowl of cold water to cover.
Pour enough oil into a medium pot so that the oil comes 3 inches up the sides. Heat the oil to 275 degrees F.
Drain the fries, rinse them of excess starch under cold water, and pat dry. Working in batches if necessary, cook them in the oil for about 5 minutes; they should be soft and pale. Remove them from the oil using a slotted spoon and rinse under cold water to remove excess oil and starch for a crisper fry later. Reserve the pot of oil.
Cover a rimmed baking sheet with paper towels and lay the fries on top. Chill completely in the refrigerator. The potatoes can be prepared this way up to 1 day in advance of cooking them.
Heat the oil to 360 degrees F.
Add the fries, in batches if necessary, to the oil and cook, stirring gently, until the fries are golden brown, about 5 minutes. Remove them from the oil to a large paper-towel-lined bowl and season them with the rosemary and salt, shaking the bowl to distribute the seasonings evenly.