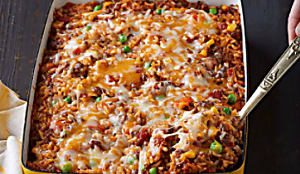 Mexican Beef & Rice Casserole
Prep Time: 25 min.
Total Time: 1hr. 15 min.
Servings: 8 servings
Ingredients:
1 lb. extra-lean ground beef
1-1/2 cups KRAFT Mexican Style Shredded Four Cheese with a TOUCH OF PHILADELPHIA, divided
1 pkg. (1 oz.) TACO BELL® Taco Seasoning Mix
1 cup long-grain white rice, uncooked
1 cup frozen mixed vegetables (carrots, corn,
peas)
1 can (14.5 oz.) no-salt-added diced tomatoes, undrained
1 cup TACO BELL® Thick & Chunky Medium Salsa
1 cup fat-free reduced-sodium chicken broth
Directions:
Heat oven to 375ºF.
Brown meat in large nonstick skillet;drain. Return meat to skillet.
Reserve 1 cup cheese for later use. Add remaining cheese and all remaining ingredients to meat; mix well.
Spoon into 13x9-inch baking dish sprayed with cooking spray; cover.
Bake 40 to 50 min. or until rice is tender. Top with reserved cheese; bake, uncovered, 5 min. or until melted.