Low-Carb Italian Pizza
13Ingredients
40Minutes
930Calories
13
Add to Meal Planner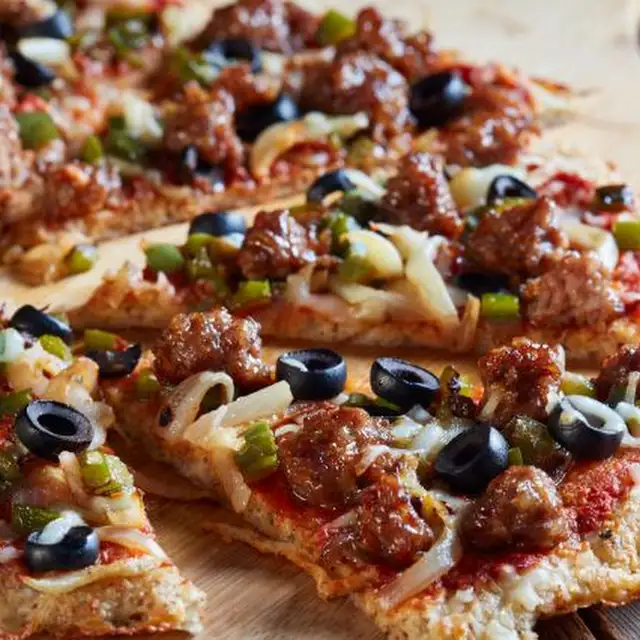 Low-Carb Italian Pizza
JOHNSONVILLE SAUSAGE
13
Ingredients
US|METRIC
4 SERVINGS
2 Johnsonville Mild Italian Sausage Links (links, cut coin-sized pieces)

1/2 tablespoon oil

1/2 cup chopped onion

1 green bell pepper (chopped)

1/3 cup marinara sauce

1/4 cup shredded mozzarella cheese

1/4 cup sliced black olives

crust

3 cups shredded mozzarella cheese (divided)

2 ounces cream cheese

2/3 cup almond flour

1 egg

1 teaspoon Italian seasoning
Shop Ingredients
Did you make this?
Add All to Shopping List
Add to Meal Planner
Directions
Preheat oven to 425°.

In a skillet, cook and stir onions and pepper in oil over medium heat until tender; about 5 minutes. Remove from skillet; set aside

In the same skillet, cook and stir sausage until browned and cooked through; about 7-10 minutes; set aside.

In a microwave-safe bowl, combine 2 cups mozzarella cheese and cream cheese until melty; about 1 minutes. Stir in the almond flour, egg and Italian seasoning until fully combined.

Line a large baking sheet with parchment paper; spray with non-stick cooking spray. Form pizza dough in a large ball; place pizza dough on parchment paper; place a second piece of parchment paper over dough ball. Using hands or a rolling pin; flatten dough into a round shape; remove top parchment.

Bake for 10 minutes; use fork to poke hole if dough has puffed up.

Spread marinara sauce over crust and top with the 3 tablespoons mozzarella, pepper and onion mixture, sausage and olives.

Bake until cheese is melty; about 4-6 minutes.
NutritionView More
930CALORIES
SODIUM61% DV1460mg
FAT109% DV71g
PROTEIN75% DV38g
CARBS12% DV36g
FIBER20% DV5g