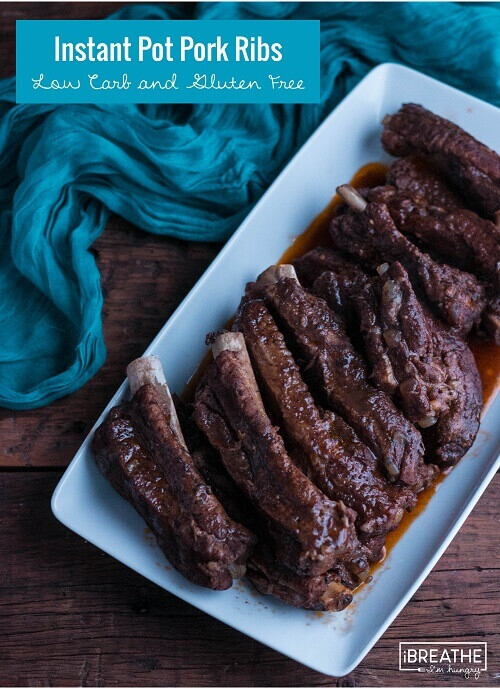 How to Make Ribs in the Instant Pot – Low Carb
Author: Mellissa Sevigny
Yield: 6 servings 1x
Category: Instant Pot Recipe
Cuisine: American
Description
If you've ever wondered how to make ribs in the Instant Pot, then this post is for you! Easy and delicious low carb ribs in less than an hour total – it's a dream come true!
SCALE1x2x3x
INGREDIENTS
~ 5 pounds of pork ribs (country style) cut into sections
FOR THE DRY RUB:
1.5 Tbsp kosher salt
1 Tbsp erythritol or other sweetener
½ tsp ground black pepper
1 tsp garlic powder
1 tsp onion powder
1 tsp paprika
½ tsp allspice
½ tsp ground coriander
FOR THE SAUCE:
1/2 cup reduced sugar ketchup
2 Tbsp erythritol or other sweetener
2 Tbsp red wine vinegar
1/2 cup water
1/4 tsp liquid smoke
1/2 Tbsp ground mustard
1/2 Tbsp ground allspice
1/2 tsp onion powder
1/4 tsp xanthan gum (optional)
INSTRUCTIONS
Season the ribs with the dry rub ingredients on all sides.
Stack the rib sections in the Instant Pot (or slow cooker.)
Combine the ketchup, sweetener, vinegar, water, liquid smoke, mustard, allspice, and onion powder in a small bowl and whisk to combine.
Pour the sauce mixture over the ribs.
Seal the Instant Pot and use the Manual setting to set the time to 35 minutes on high pressure.
After the cooking is done, release the pressure per manufacturer's instructions and remove lid.
Remove the ribs to a platter and keep warm.
Whisk the xanthan gum into the sauce, then use the saute function to cook the remaining liquid in the pot for 10 minutes. Pour the sauce over the ribs and serve.
IF USING A SLOW COOKER, COOK ON LOW FOR 6-8 HOURS OR ON HIGH FOR 4 HOURS. THEN COOK THE LIQUID DOWN ON THE STOVETOP UNTIL THICKENED BEFORE POURING OVER THE RIBS.
NOTES
Approx nutrition info for 3 ribs: 387 calories, 29g fat, 2g net carbs, 27g protein