4 Ingredient Instant Pot Corned Beef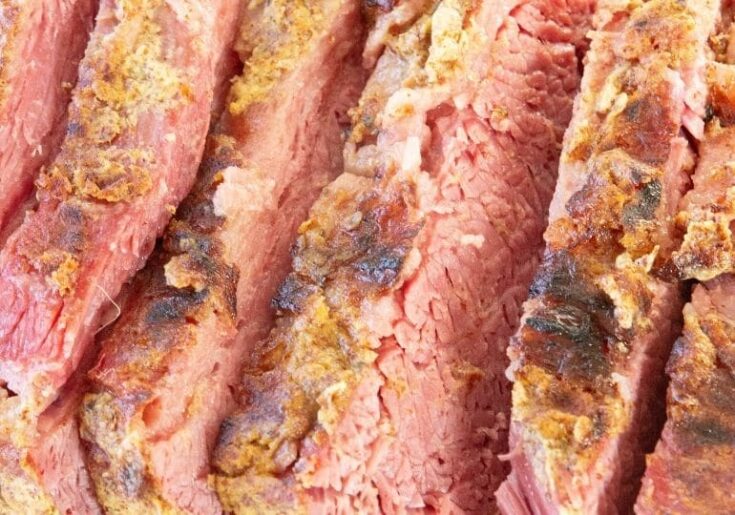 4 Ingredient Instant Pot Corned Beef that is so delicious. This instapot corned beef is so easy to whip up, and fall-apart tender. A pressure cooker corned beef that does not disappoint. Whip this up for dinner tonight to pair with your favorite sides.
PREP TIME 10 minutes
COOK TIME 1 hour 20 minutes
TOTAL TIME 1 hour 30 minutes
Ingredients
Supplies
Corned Beef Ingredients
Corned Beef Brisket with Pickling Spices (2-4 lbs)
4 cups beef broth
1 onion, diced into quarters
Horseradish Mustard or Dijon Mustard
Instructions
Rinse and pat dry your corned beef, then place it in the Instant Pot.
Sprinkle the pickling spices on the corned beef.
Toss in the onions, and pour the beef broth over the top.
You want the broth to cover the brisket, if not add more broth or a little water.
Place lid on the pressure cooker, and then make sure the valve is set to sealing.
Pressure cook manual high pressure for 1 hour and 15 minutes, followed by 20 minutes of natural releasing.
Press off any remaining pressure at this time, and then carefully remove the corned beef brisket and place it on an aluminum foil-lined baking sheet.
Brush with the mustard, and place in the oven on high broil to lightly brown the mustard. You can also use your air fryer lid if you have a Duo Crisp with the crisping lid.
Allow the brisket to cool, slice, and serve with all your favorite sides.