YIELD: 6
Instant Pot Best Blue Ribbon Chili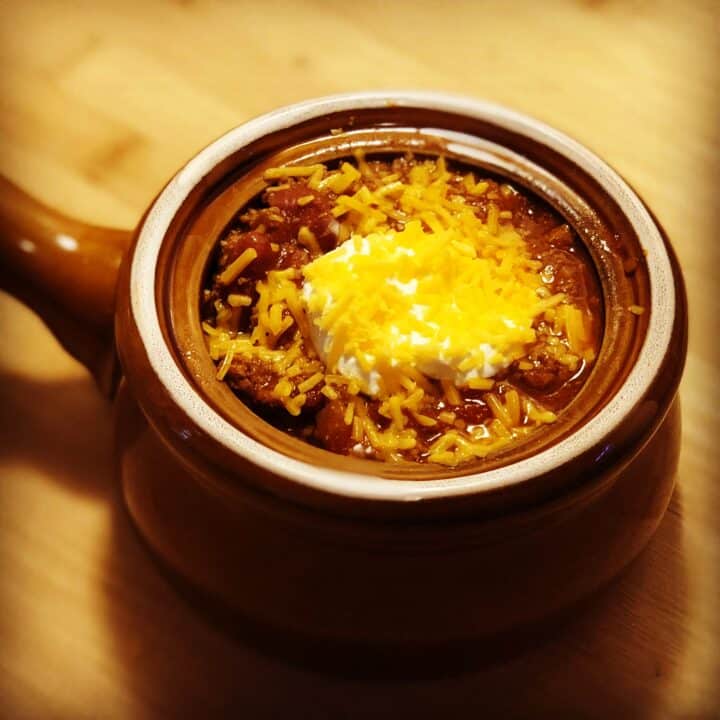 This chili has won my readers more contests than I can count at this point. It is the role model for all chilis around and I wouldn't dare state such a thing unless it was completely true. Oh, and if you to leave out the beans, go for it (but it's most definitely chili with OR without beans).
PREP TIME 5 minutes
COOK TIME 28 minutes
TOTAL TIME 33 minutes
Ingredients
1.5 lbs of ground beef (or ground turkey or ground chicken)
1 tbsp of vegetable oil
2 tbsp (1/4 stick) of salted butter
1 medium yellow onion, finely diced
1-2 poblano peppers, finely diced with seeds removed (this is a mild pepper and if you can't find one, you can use a green bell pepper)
1 small jalapeño pepper, finely diced with seeds removed (optional as this is a medium hot pepper)
1 small habanero pepper, sliced in half with seeds removed (totally optional as this is a very hot pepper)
1 tbsp of crushed garlic
1/2 cup of beer (I used Budweiser, but you can really use any – and don't worry, the beer will burn off and the kids won't get drunk)
8 oz can of tomato sauce
14.5 oz can of diced tomatoes
10 oz can of Rotel
1 tbsp of hoisin sauce
1/4 cup of taco sauce
1 tsp of Worcestershire sauce
1/2 tsp of kosher salt
1 tsp of Italian seasoning
1 tsp of dried cilantro
2 tbsp of cumin
1/2 tbsp of chili powder
1 tsp of seasoned salt
1 tsp of celery salt
1 tsp of Tony Chachere's Creole Seasoning (optional)
Two 15.5 oz cans of red kidney beans, drained & rinsed (leave this out if you want it "Texas" style)
4 tbsp of Chili Better Than Bouillon (hard to find in stores, but easy to find online. If it's sold out, just keep searching online but DO NOT pay more than $8 for an 8 oz jar. It's not 100% necessary to use but it REALLY sends this chili home!)
OPTIONAL TOPPINGS:
Shredded cheddar/taco cheese
Sour cream
Instructions
Add the butter and vegetable oil to the Instant Pot and hit "Sauté" on the "More" or "High" setting. Once the butter's melted and the oil's sizzling, add in the onions, poblano, jalapeño and habanero peppers and stir & set for 5 minutes until softened and then add in the garlic and cook for another minute. Remove only the habanero pepper when done and discard

Next, add the ground beef and stir until it cooks down and crumbles and becomes a slightly browned in color (about 3 minutes – it doesn't need to be fully cooked yet). Its juices will be released while cooking and this is a good thing – keep them in the pot and do not drain

Add in the beer, diced tomatoes, Rotel, tomato sauce, taco sauce, Worcestershire sauce and hoisin sauce. Stir well and deglaze (scrape) the bottom of the pot

Now, add the kosher salt, Italian seasoning, cumin, chili powder, dried cilantro, seasoned salt, celery salt and Tony's Creole seasoning (if using). Stir again until well combined

Lastly, add the drained and rinsed kidney beans but DO NOT stir them in with the rest. Just lightly smooth them out as they rest on the top of the chili (see video for visual guidance)

Secure the lid and select "Pressure Cook" or "Manual" High Pressure for 5 minutes (it may take up to 15 minutes to come to pressure so be patient). When done, do a quick release and allow the pot to sty on the "Keep Warm" setting

When the lid comes off, give everything a good stir, add in the Chili Better Than Bouillon and stir again. Allow it to cool down to a warmish-hot, but not scalding temperature (about 10-15 minutes, as chili tastes even BETTER once it cools down a bit and the flavors have a chance to meld!)

Ladle into bowls and top with some optional shredded cheese, sour cream or even my awesome refried beans. Serve it with my acclaimed Mexican Street Corn and/or my raved-about Creamy Chicken Enchiladas as terrific companions!

Enjoy!
Jeffrey's Tips
The Chili Better Than Bouillon is hard to find in stores, but easy to find online. You can buy it here or here! If it's sold out, just keep searching online but DO NOT pay more than $8 for an 8 oz jar. You'll be getting ripped off otherwise! It's not 100% necessary to use but it REALLY sends this chili home.
The reason we add the Chili Better Than Bouillon at the end and not before pressure cooking is because it's a bit different from the other bases. It's a less potent concentrate and therefore I feel the maximum flavor result occurs when you slather it on and mix it together with the chili at the end just before serving.
Like my crocks to use for your bowls? (which are also perfect for my famed French Onion Soup?) Buy them here!
Hate beans and think it's not a "real chili" if it has them? Well, fine then – LEAVE 'EM OUT!
If you have the time and feel like it, before adding them to the Instant Pot, feel free to roast the diced poblano peppers in the oven at 450 for about 5-10 minutes with some olive oil and sea salt drizzled on them. It will create an even richer flavor!
While this chili is absolutely top-notch, it is a known fact that the flavor of chili always REALLY comes out the next day when its had a chance to cool down in the fridge. The cold temperature makes all of the flavors meld so that when reheated, they come out in ways that are even more extraordinary than before! So you can DEFINITELY make this ahead of time and even freeze the leftovers!