Recipe Image
Notes
Nutrition Label
–+ servings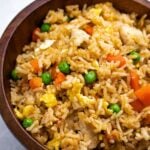 4.89 from 42 votes
Instant Pot Chicken Fried Rice
Instant Pot Chicken Fried Rice is a fast and easy one-pot meal. With simple ingredients like rice, chicken, egg, carrots and peas, your family will love this savoury recipe! Perfect for a weeknight dinner or meal prep lunch!
Prep Time10 mins
Cook Time6 mins
Inactive Time20 mins
Total Time36 mins
Course: Main Course
Cuisine: Chinese
Keyword: Instant Pot Chicken Fried Rice, Pressure Cooker Chicken Fried Rice
Servings: 4
Calories: 489kcal
Equipment
6-qt Instant Pot

Sieve

Chef's Knife

Wooden Turner
Ingredients
2 teaspoons vegetable oil, divided
2 eggs, whisked
3 cloves garlic, minced
1 1/4 cup chicken broth
1 lb uncooked chicken breast, 1/2-inch dice
1 cup diced carrots
1 1/2 cups uncooked jasmine rice, rinsed very well until water runs clear see notes 1 and 2 for important tips
1/2 cup frozen peas, thawed
3-4 tablespoons soy sauce or wheat-free tamari adjust to taste
1 teaspoon sesame oil
For Garnish
sliced green onion optional
hot sauce, sriracha pairs well optional
Instructions
Turn on the Sauté function on the Instant Pot. Warm 1 teaspoon of the vegetable oil, then add the whisked eggs. Push the eggs around with a spatula to scramble them until fully cooked. Transfer the eggs to a plate and set aside. It's okay if there's a bit of egg stuck to the bottom of the insert.

Heat another teaspoon of vegetable oil in the insert and add the minced garlic. Sauté the garlic until fragrant (about a minute), stirring frequently. Turn off the Sauté function, then pour in a small amount of chicken broth and use a spatula to scrape up every last bit of food stuck to the bottom of the insert. This is important to avoid a burn warning.

Pour in the remaining broth, then add the diced chicken, diced carrots and rice (in this order). Push the rice down to be just submerged in the broth, but do not stir.

Close and seal the lid and cook on Manual high pressure for 3 minutes, with the keep warming setting off. At the end of cooking time, allow the pressure to release naturally for 10 minutes, then quick release the remaining pressure.

Remove the lid, then add the soy sauce and sesame oil and stir until the rice is well coated. Add the peas and reserved scrambled egg and continue to mix until well combined. Set the lid askew on the pot for a minute or two to let the peas and egg to warm through. Serve immediately with your chosen garnish or divide among 4 storage containers for meal prep. Eat within 4 days.
Notes
Be sure to rinse the rice very well. I find the easiest way to do this is swirl the rice in a bowl of water until the water is cloudy, drain in a sieve and rinse. Repeat this process until the water is clear when you swirl. The goal is to remove as much starch as possible to prevent a sticky result.
For best results, I highly recommend a good quality jasmine rice. I find generic long grain white rice results in a mushier texture. If you use basmati, I suggest adding an extra minute of cook time (4 minutes total). Brown rice will not work in this recipe, as it requires a much longer cook time.
Inactive time indicates time for the Instant Pot to come to pressure and release pressure.
This recipe was tested in a 6-qt Instant Pot model.
Nutrition
Calories: 489kcal | Carbohydrates: 64g | Protein: 35g | Fat: 9g | Saturated Fat: 3g | Cholesterol: 154mg | Sodium: 612mg | Potassium: 770mg | Fiber: 3g | Sugar: 3g | Vitamin A: 5637IU | Vitamin C: 11mg | Calcium: 60mg | Iron: 2mg
Instant Pot Chicken Fried Rice Instant Pot Chicken Fried Rice - The Recipe Well