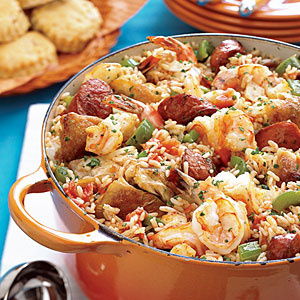 Easy Slow-Cooker Jambalaya
Have dinner ready when you come home with this ultimate, slow-cooker Jambalaya. Featuring chicken, shrimp and smoked sausage, this classic Creole rice dish is perfect for the slow-cooker as all the flavors blend together over time in a marvelous way. As a simple one-pot meal, bring Jambalaya to your next potluck as a crowd-pleasing dish that doesn't skimp on flavor or presentation. Don't be afraid of making too much because leftover Jambalaya still tastes great warmed up the next day with a splash of your favorite hot sauce.
Yield:
8 Servings
Ingredients
2 pounds boneless, skinless chicken thighs
1 pound smoked sausage, cut into 2-inch slices
1 large onion, chopped
1 large green bell pepper, seeded and chopped
3 stalks celery, chopped
1 (28 oz.) can diced tomatoes with juice
3 cloves garlic, chopped
2 cups chicken broth
1 tablespoon Cajun or Creole spice mix
1 teaspoon dried thyme
1 teaspoon dried oregano
1 pound extralarge shrimp, peeled and deveined
1 3/4 cups long-grain rice
Parsley, optional
Preparation
Combine chicken, sausage, onion, green pepper, celery, tomatoes, garlic, chicken broth, spice mix, thyme and oregano in a large (5-quart) slow cooker. Cook on low for 5 hours.
Add shrimp and rice; raise heat to high and cook for 30 minutes more. Sprinkle with chopped parsley, if desired.
Nutritional Information
Amount per serving
Calories 457
Fat 22 g
Sat fat 7 g
Protein 43 g
Carbohydrate 19 g
Fiber 2 g
Cholesterol 216 mg
Sodium 621 mg