CHEESY CHORIZO CORNBREAD BALLS WITH CHIPOTLE DIPPING SAUCE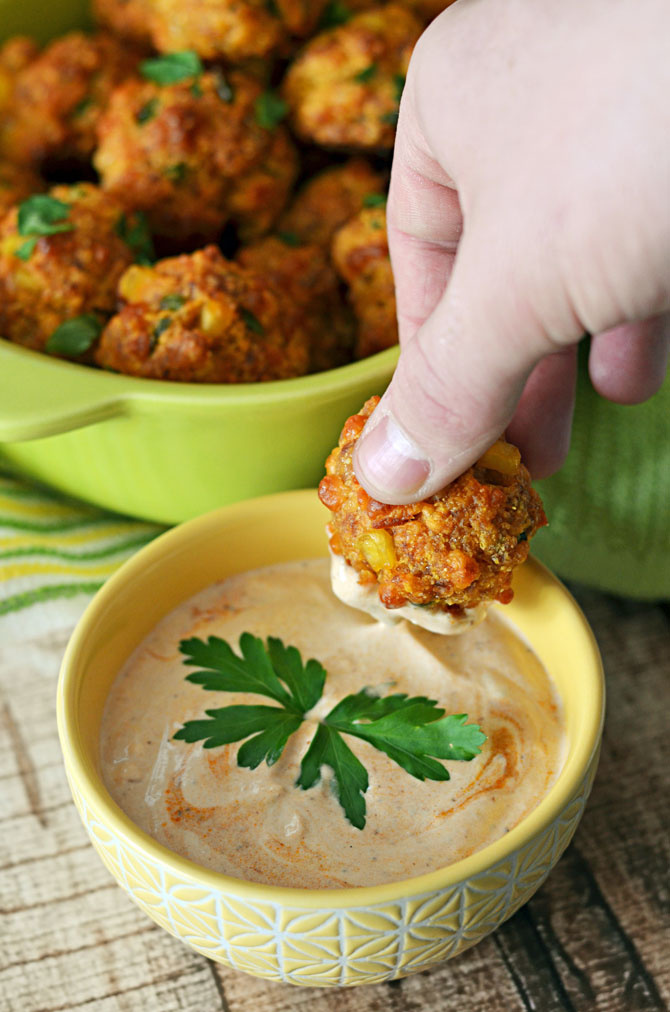 PREP TIME
15 mins
COOK TIME
30 mins
TOTAL TIME
45 mins
INGREDIENTS
For the Chorizo Balls:
1 lb uncooked chorizo, casings removed
2 cups cornbread mix
2 cups shredded cheddar cheese
2 large jalapenos, stemmed and seeded, finely chopped
¾ cup canned corn, drained and rinsed
2 green onions, chopped
Pinch of salt
Cilantro or parsley, to garnish
For the Chipotle Dipping Sauce:
⅓ cup mayonnaise
⅓ cup sour cream
Canned chipotle chile in adobo, minced, plus sauce, to taste
DIRECTIONS
Preheat oven to 350 F. Line a baking sheet with parchment paper.
In a large bowl, combine the chorizo, cornbread mix, cheddar cheese, corn, jalapeno, onion, and salt. Mix until well-combined and no longer gritty.
Shape the mixture into balls slightly smaller than your average meatball (or about 1"). Place on the baking sheet.
Bake 25-30 minutes, or until cooked through.
As you wait for the Chorizo Balls to cook, prepare the dipping sauce. Combine ⅓ cup mayonnaise with ⅓ cup sour cream and mix well. Finely mince one chipotle chile and mix it in to the sour cream mixture, adding in about a half-teaspoon of adobo sauce (from the can) to start. Add more chipotles or adobo, to taste, until you reach your desired heat level.
Serve the Chorizo Balls warm or at room temperature with the Chipotle Dipping Sauce and fresh cilantro or parsley, to garnish.
Source: http://hostthetoast.com/cheesy-chorizo-cornbread-balls-chipotle-dipping-sauce/