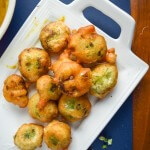 Beer-battered Brussels Sprouts
Crispy vegan beer-battered Brussels sprouts served with a sweet and salty maple-mustard sauce.
Course Appetizer
Cuisine American, nut-free, soy-free, vegan, vegetarian
Keyword beer-battered brussels spouts
Prep Time 15 minutes
Cook Time 15 minutes
Total Time 45 minutes
Total Yield 8 side servings
Calories Per Serving 139 kcal
Author Yup, it's Vegan
Ingredients
For the beer-battered Brussels sprouts:
1 lb Brussels sprouts (450g) stemmed and halved, with the outer layer of leaves removed
vegan beer batter (below)
neutral oil for frying (I suggest peanut oil or organic canola oil)
dipping sauce for serving (suggestion below)
For the beer batter:
2/3 cup all-purpose flour
1/3 cup white rice flour or cornstarch
1/2 tsp salt (or to taste)
1/4 tsp ground black pepper
12 oz beer (1 bottle)
For the maple-mustard sauce:
2 and 1/2 tbsp prepared mustard (I use spicy brown mustard)
2 and 1/2 tbsp maple syrup
1 tsp vegan Worcestershire sauce (or use soy sauce, optional)
Instructions
To prepare the maple-mustard sauce:
Whisk together all of the ingredients in a bowl, and adjust seasonings to taste.
To blanch the Brussels sprouts:
Prepare a bowl of ice water, and bring a pot of water to a boil.

Once the water is boiling, add the Brussels sprouts. Leave them in the water until they turn bright green. This took about 5 minutes for me but can vary depending on the size of your Brussels sprouts. Make sure not to overcook them.

Remove the sprouts from the pot and transfer them immediately into the ice water to stop the cooking process.

Set the sprouts in a colander to drain, or gently pat them dry with paper towels. You want them to be as dry as possible before you batter them.
For beer-battering and frying the Brussels sprouts:
Add about 2 inches of oil in a large, heavy pan on the stovetop, and heat the oil until over medium heat until hot - about 365 degrees Fahrenheit.

Mix together the flours, salt, and pepper in a bowl. Pour in the beer and stir just until combined. Do not over-mix. If the batter seems too thin to coat the Brussels sprouts, add a little more flour as needed.

Add the Brussels sprouts to the batter (I do this in a few batches) and coat them. Then transfer them to the hot oil, making sure to leave plenty of space between them and not crowd the pan (otherwise, they'll come out greasy and not crispy).

Cook for 3-5 minutes, or until crispy and golden brown. Use tongs or a heat-safe slotted spoon to transfer them to a plate lined with paper towels. (Optional) sprinkle the beer-battered Brussels sprouts with coarse salt immediately after they come out of the fryer.

Enjoy immediately.
Recipe Notes
I haven't tried it, but gluten-free all-purpose flour would probably work. Same goes for gluten-free beer.
Nutrition Facts
Beer-battered Brussels Sprouts
Amount Per Serving (1 eighth recipe)
Calories 139Calories from Fat 36
% Daily Value*
Total Fat 4g 6%
Polyunsaturated Fat 2g
Monounsaturated Fat 1g
Sodium 164mg 7%
Potassium 321mg 9%
Total Carbohydrates 18g 6%
Dietary Fiber 3g 12%
Protein 3g 6%
Vitamin A80%
Vitamin C40%
Calcium5%
Iron3%
Percent Daily Values are based on a 2000 calorie diet.