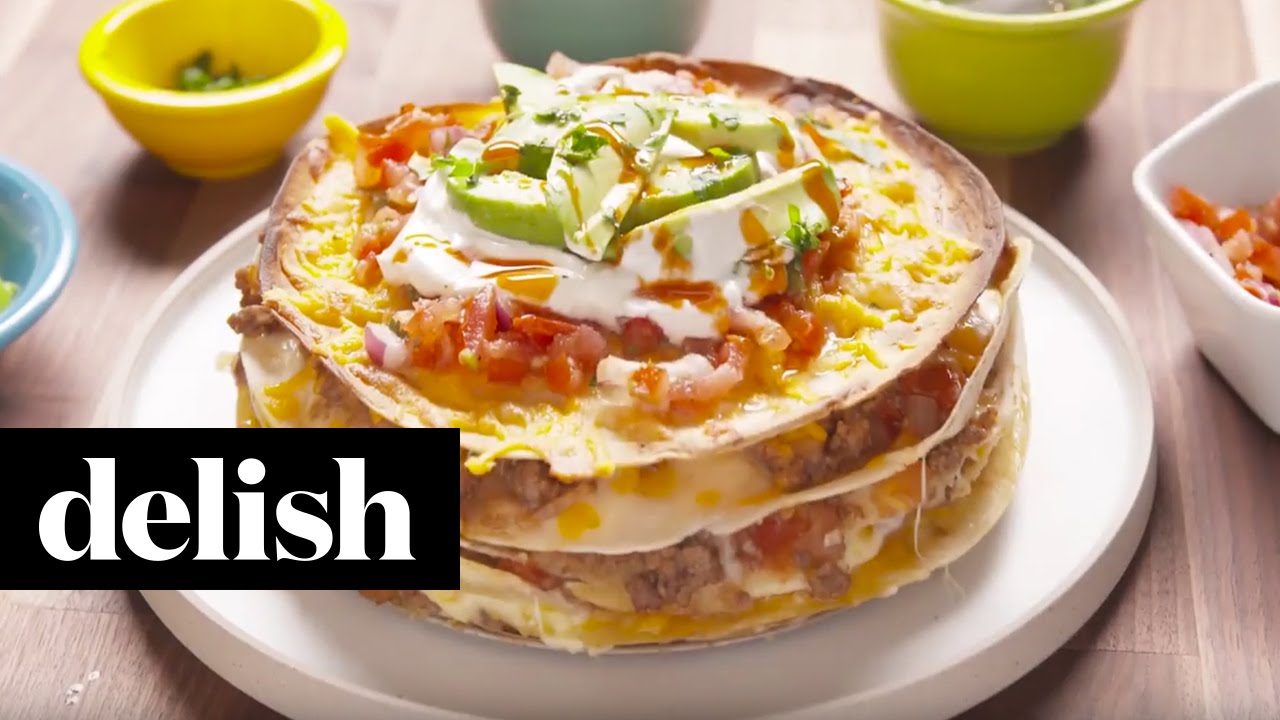 Five layers of quesadilla means five times as much flavor than your standard quesadilla.
INGREDIENTS
1 onion, chopped
2 cloves garlic, chopped
1 tsp. chili powder
1 tsp. cumin
1 lb. ground beef
2 tomatoes, chopped
2 tbsp. tomato paste
Kosher salt, to taste
ground pepper, to taste
6 medium flour tortillas
1 tbsp. Extra virgin olive oil
1 c. cheddar cheese, shredded
1 c. Monterey Jack Cheese, shredded
salsa (optional)
Sour cream (optional)
avocado (optional)
Cilantro (optional)
lime, cut into wedges (optional)
DIRECTIONS
Preheat oven to 400 degrees F. Lightly grease a springform pan. (You could also use a cake or pie pan.)
Cook the filling. Heat olive oil in a large pan over medium heat. Sauté onions until soft. Add garlic and spices. Cook until fragrant, about 30 seconds. Add ground beef. Stir occasionally and sauté until cooked through. Add tomatoes and tomato paste. Cook for another 1-2 minutes to let the flavors develop. Season with salt and pepper. Remove pan from heat and drain excess fat.
Build the cake. Lay a tortilla down on the bottom of a springform fan. Spread some of the meat mixture on the tortilla and sprinkle a handful of both cheeses on top. Place another tortilla on top of the meat and cheese. Repeat steps, using tortillas, meat and cheese, until you have five layers. When you lay town the last tortilla, sprinkle the top with the remaining cheese.
Bake for 20 minutes, until the cheese is melted and the tortillas are warmed through. Let the cake rest in pan for about 5 minutes before slicing.
When ready to serve, garnish with desired toppings.