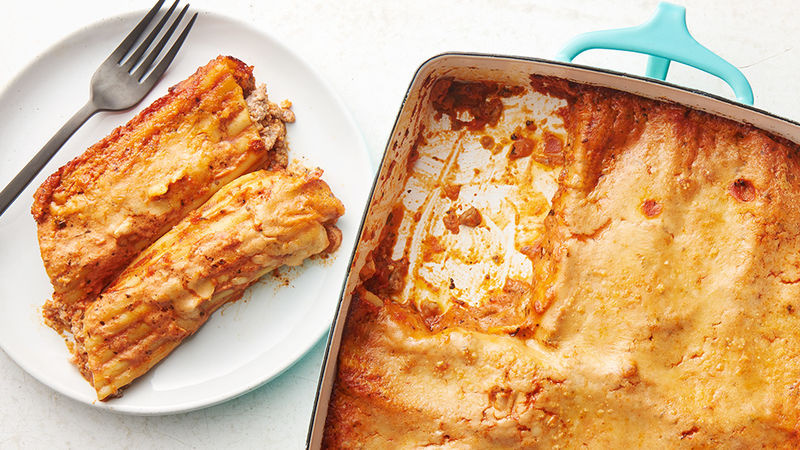 Beef Cannelloni
Prep: 45 MIN
Total: 1 HR 30 MIN
Servings: 6
Ingredients
12 manicotti shells
1 tablespoon butter
4 oz pancetta, finely chopped
1 lb extra-lean (at least 90%) ground beef SAVE $
2 cloves garlic, finely chopped
2 tablespoons Gold Medal™ all-purpose flour
1 cup whole milk SAVE $
1 cup grated Parmigiano-Reggiano cheese
1/2 cup shredded mozzarella cheese (2 oz) SAVE $
1/2 teaspoon salt
1/4 teaspoon freshly ground black pepper
1/4 teaspoon ground nutmeg
1 egg, beaten
1 jar (25.5 oz) Muir Glen™ organic tomato basil pasta sauce SAVE $
1/2 cup heavy whipping cream
Steps
1 Heat oven to 375°F. Spray 13x9-inch (3-quart) baking dish with cooking spray. Cook manicotti as directed on box. Rinse with cool water; drain well.

2 Meanwhile, in 12-inch skillet, heat butter over medium heat. Add pancetta; cook about 4 minutes or until lightly browned. Add beef; cook 5 to 7 minutes, breaking as many lumps as possible, until no longer pink. Add garlic and flour; cook and stir 2 minutes. Add milk; stir to combine. Cook and stir until mixture comes to a boil. Remove from heat; stir in 1/2 cup of the Parmigiano-Reggiano, the mozzarella, salt, pepper and nutmeg. Remove from heat; cool 5 minutes. Stir in egg.

3 Spread 3/4 cup of the pasta sauce in baking dish. Spoon beef mixture into manicotti; place in dish. Spread another 3/4 cup pasta sauce over manicotti, making sure to cover manicotti completely.

4 Pour whipping cream inside pasta sauce jar with remaining sauce. Cover, and shake. Pour cream mixture over manicotti. Sprinkle with remaining 1/2 cup Parmigiano-Reggiano. Cover with foil; bake 15 minutes. Uncover; bake 15 to 20 minutes or until bubbly and lightly browned. Let stand 10 minutes before serving.