Baked Chicken Ranch Yogurt Egg Rolls Recipe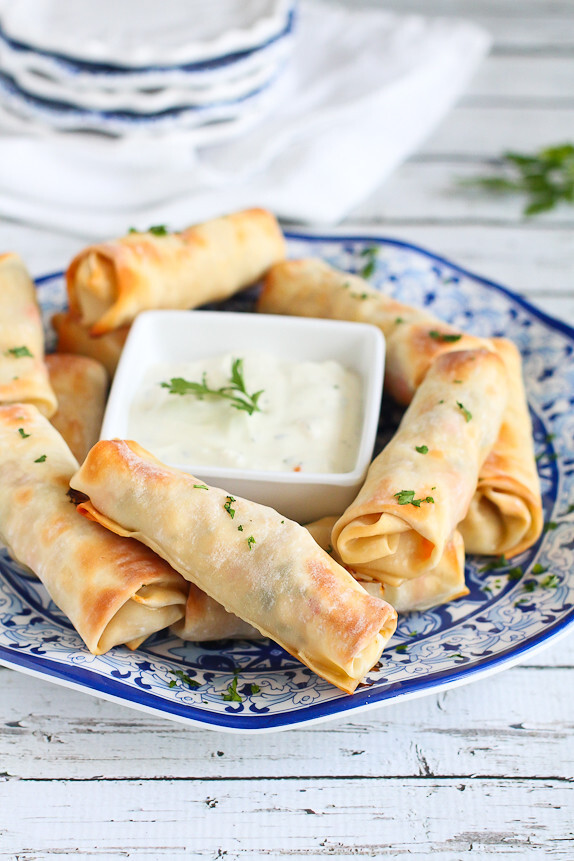 Hand-held appetizers are perfect for tailgating! These healthy Baked Chicken Ranch Yogurt Egg Rolls are fun to make and eat on game day.
Course: Appetizers, Entrees
Cuisine: American
Keyword: Poultry Recipes, Super Bowl
Prep Time: 25 minutes
Cook Time: 20 minutes
Total Time: 45 minutes
Servings: 10 Servings
Calories: 117kcal
Author: Dara Michalski | Cookin' Canuck
Ingredients
1 teaspoon olive oil
12 ounces boneless skinless chicken breast, cut into 1/2-inch dice
1/4 teaspoon salt
1/4 teaspoon ground pepper
1/4 cup Sabra Farmer's Ranch Greek yogurt dip
1/4 red bell pepper diced
1 stalk celery diced
2 green onions thinly sliced
1 teaspoon hot sauce your favorite kind
10 square egg roll wrappers
1 egg
2 teaspoon water
Sabra Farmer's Ranch Greek yogurt dip for serving
Instructions
Preheat the oven to 375 degrees F. Line a baking sheet with parchment paper and lightly coat it with cooking spray.

Heat the olive oil in a large nonstick skillet set over medium-high heat. Add the chicken, salt and pepper, and sauté until the chicken is just cooked through.

Transfer to a bowl and add the Greek yogurt dip, red bell pepper, celery, green onions and hot sauce. Stir to combine.

Working with one egg roll wrapper at a time, lay the wrapper on a cutting board and brush the egg was around each edge.

Scoop 2 rounded tablespoons of the chicken mixture onto one edge of the wrapper, leaving a small border.

Fold in the sides and roll up the egg roll tightly. Place it on the prepared baking sheet.

Repeat with the remaining wrappers and chicken filling.

Bake until the egg rolls are golden brown, about 20 to 25 minutes.

Serve with more of the Greek yogurt dip.
Notes
Weight Watchers Points: 4 (Points+), 3 (Old Points)
Nutrition
Serving: 1Roll + 1 Tbsp Dip | Calories: 117kcal | Carbohydrates: 8g | Protein: 9g | Fat: 5g | Saturated Fat: 1g | Cholesterol: 41mg | Sodium: 255mg | Potassium: 159mg |
https://www.cookincanuck.com/baked-chicken-ranch-yogurt-egg-rolls-recipe/