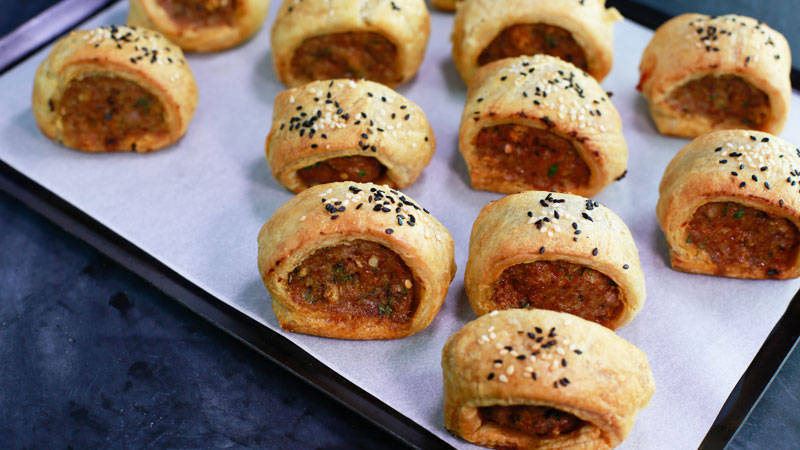 ##Ingredients
2 teaspoons olive oil
1/2 medium onion, finely diced
2 cloves garlic, chopped
1/3 cup heavy whipping cream, divided
1 tablespoon Dijon mustard
2 teaspoons chopped fresh thyme
1 teaspoon chopped fresh parsley
1 1/2 teaspoons paprika
1/2 teaspoon freshly ground black pepper
1/2 teaspoon dried red chile flakes
1 3/4 teaspoons kosher salt, plus more to taste
1/4 cup plain dried breadcrumbs
1 pound freshly ground pork (20% fat; do not use lean pork)
1 egg yolk, for egg wash
Two 9 1/2-inch square puff pastry sheets
2 teaspoons sesame seeds (preferably black and white)
Ketchup
##Method
Position a rack in the lower third of the oven and preheat the oven to 375°F. Line a large heavy baking sheet with parchment paper.
Heat a medium, heavy sauté pan over medium heat. Add the oil then the onion and garlic, and sauté for about 4 minutes, or until tender. Season with salt. Transfer the mixture to a large bowl and set aside until cooled, about 20 minutes.
Once the onions are cooled, stir in 1/4 cup of the cream, mustard, thyme, parsley, paprika, pepper, chile flakes and 1 3/4 teaspoons salt. Stir in the breadcrumbs. Using your hands, gently mix the pork into the breadcrumb mixture.
Lay 1 pastry sheet on a lightly floured work surface. Form half of the pork mixture into a log along the bottom edge of the pastry square. Roll the pastry upwards and around the pork mixture to encase it completely brushing with egg wash to seal it, allowing about a 1/2-inch seam. Trim away the excess pastry (about 2 1/2 inches). Cut the roll crosswise into 4 pieces and set the rolls, seam side down, on the prepared baking sheet. Repeat with the remaining pastry sheet and pork mixture.
Brush the remaining cream over the sausage rolls and sprinkle with the sesame seeds. Bake on the lower rack for about 35 minutes, or until the pastry is dark golden brown and the sausage is cooked through. Cool for 5 minutes. Serve the hot sausage rolls with ketchup.