The Secret to Light and Fluffy Mashed Potatoes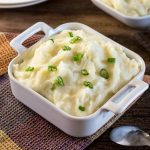 Prep Time: 5 mins
Cook Time: 15 mins
Total Time: 20 mins
There is a secret to making perfectly light and fluffy mashed potatoes that you have likely been overlooking. You will never make mashed potatoes the same way again!
Course: Side Dish
Cuisine: American
Servings: 8
Calories: 250 kcal
Ingredients
4 lbs russet potatoes, peeled and cut into 1" chunks
2 cups heavy cream
12 tbsp butter, room temperature, cut into 1/2-inch chunks
kosher salt
freshly ground black pepper
Order Ingredients Powered by Chicory
Instructions
Rinse cut and peeled potatoes under cold water until water runs clear.
Add potatoes to large pot of cold salted water, water should cover potatoes by 1", and bring to a boil. Boil for 15 minutes or until potatoes are cooked and tender.
Drain potatoes from water and rinse in colander under warm water.
Run potatoes through a ricer or food mill and add butter, cream, salt and pepper. Gently fold with a spatula until fully incorporated and taste for salt.
Serve immediately.