Crab Stuffed Flounder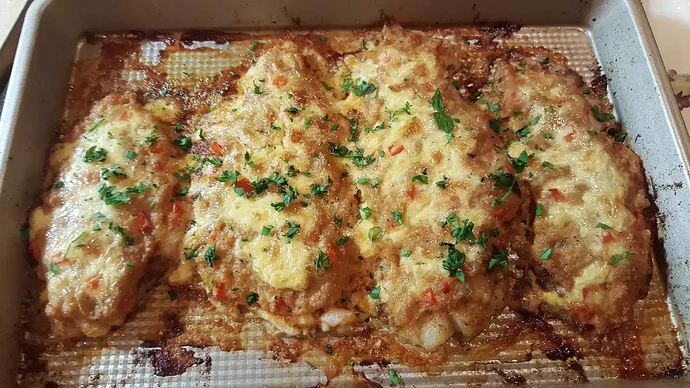 This stuffed flounder dish is an easy recipe that my children have enjoyed. They're not big fish eaters either!
Updated on July 4, 2022
Prep Time:
10 mins
Cook Time:
20 mins
Total Time:
30 mins
Ingredients
1 ½ pounds flounder fillets
1 cup crabmeat - drained, flaked and cartilage removed
3 crushed saltine crackers
1 tablespoon finely chopped green bell pepper
¼ teaspoon ground dry mustard
¼ teaspoon Worcestershire sauce
¼ teaspoon salt
ground white pepper to taste
1 egg white
1 tablespoon mayonnaise
¼ cup butter, melted
Topping:
1 egg yolk
5 tablespoons mayonnaise
1 tablespoon dried parsley
½ teaspoon paprika
Directions
Preheat the oven to 400 degrees F (200 degrees C). Rinse flounder fillets and pat dry with paper towels. Lightly grease a shallow baking dish.
Combine crabmeat, crushed saltines, bell pepper, mustard, Worcestershire sauce, salt, and white pepper together in a medium bowl. Combine egg white and 1 tablespoon mayonnaise in a small bowl; stir into crabmeat mixture.
Brush fillets with melted butter; place in the prepared baking dish. Spoon crabmeat mixture over fillets and drizzle with any remaining butter.
Bake in the preheated oven for 15 minutes.
Meanwhile, make topping: lightly beat egg yolk in a small bowl. Stir in 5 tablespoons of mayonnaise. Remove fish from the oven and spread this mixture over stuffing; sprinkle with parsley and paprika.
Increase oven temperature to 450 degrees F (230 degrees C) and bake until golden and bubbly, about 5 or 6 minutes.
Nutrition Facts
calories308
total fat 21g
saturated fat 7g
cholesterol 127mg
sodium 408mg
total carbohydrate 2g
dietary fiber 0g
total sugars 0g
protein 27g
vitamin c 4mg
calcium 43mg
iron 1mg
potassium 451mg