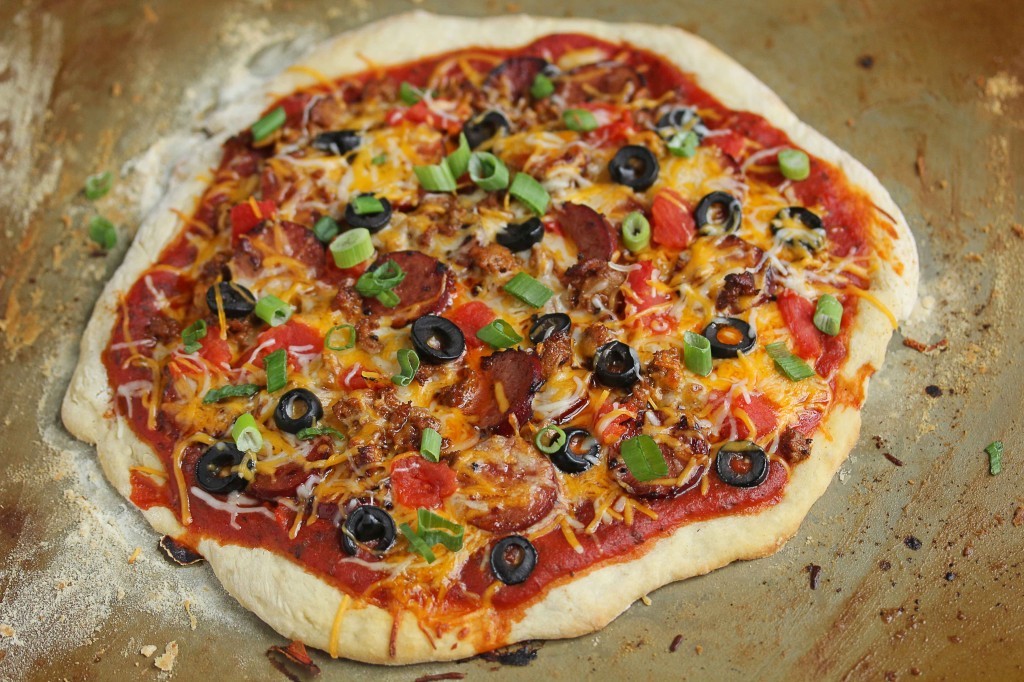 Chorizo Mexican Pizza
Ingredients
1 Napoli Inspired Pizza Dough Recipe
1 (12-14 ounce) pizza sauce jar
1 tablespoon taco seasoning
1/2 pound ground turkey or beef, browned in skillet with 3 tablespoons taco seasoning and salt and pepper to taste
1/2 (14 ounce) package of Chorizo sausage, browned in skillet
1 (8 ounce) package Mexican shredded cheese
1 (2.25 ounce) can sliced black olives
2 tablespoons diced fresh tomatoes
2 tablespoons sliced green onions
Instructions
Make Napoli Inspired pizza dough according to recipe.
Preheat oven to 450° degrees.
Cut dough in half and roll out two pizza crusts on baking surfaces.
Next brush pizza sauce over both pizza crusts and sprinkle taco seasoning over the top of the sauce.
Add taco seasoned and browned ground turkey and browned chorizo on tops of both pizza crusts.
Sprinkle meat with Mexican shredded cheese then add black olives and diced fresh tomato over pizzas.
Bake pizzas one at a time for 12-18 minutes or until crust is golden brown and toppings have all melted together. Tip: If you want to brown the top even more, turn on the broiler for a few minutes but carefully watch so the pizza does not burn.
Remove pizzas, sprinkle with green onions, slice and serve.