Bacon Ranch Mashed Potatoes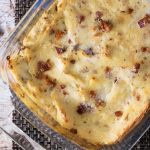 Prep Time: 10 mins
Cook Time: 1 hrs 15 mins
Total Time: 1 hrs 25 mins
These Bacon Ranch Mashed Potatoes are outrageously creamy and decadent. Loaded with crisp bits of bacon, cream cheese, sour cream and ranch seasoning, they are sure to be a hit!
Course: Side Dish
Cuisine: American
Servings: 6
Calories: 325 kcal
Author: Fox Valley Foodie
Ingredients
2 lbs russet potatoes (peeled)
1/2 lb bacon
4 oz cream cheese
1/2 cup sour cream
1/4 cup milk
1 oz packet ranch seasoning
1 tbsp bacon drippings (optional)
salt
Instructions
Preheat oven to 350 degrees.
While water is heating cook bacon in a skillet until crisp, then remove from drippings and set aside. Reserve 1 tbsp of drippings.
Peel and cube potatoes.
Place potatoes in cold water and bring to a boil. Boil for 15 minutes, or until easily pierced with a fork. Remove from water.
Warm the cream cheese and mix with sour cream, bacon drippings, and ranch seasoning.
Chop bacon into bits and add to the cream cheese mixture.
Mash potatoes and add cream cheese mixture and milk. Taste for salt and adjust as needed.
Place mashed potatoes in a 2 quart baking dish and place in the oven for 1 hour.
Remove from oven, let cool slightly, and serve.